GREAT LADIES OF SONG

GREAT LADIES OF SONG
With her enviable vocal range and her inimitable charm and wit,
Anna Reay has travelled the world showcasing her unique talent.
Following her sell out performance at the Sage Gateshead last year
with 'One Enchanted Evening', Anna is delighted to bring back her
successful show 'Great Ladies of Song' to theatres across the country.
Travel through the decades and experience the whole spectrum of
emotions as Anna tells the stories and sings the songs of some
of our all time favourite singers including Nina Simone, Maria Callas,
Eva Cassidy, Whitney Houston, Cilla Black, Adele, Aretha Franklin,
Katherine Jenkins and many more…
The show includes many new songs and will also see the launch of
a new album of original material written by Anna and Deon Krishnan.
Anna will be joined by the fabulous Anna Reay Band and special
guests to bring you an eclectic mix of songs that will guarantee
you a night to remember.
Join in the celebration of some of world's all-time greats for a night which is guaranteed to have you singing and dancing in the aisles.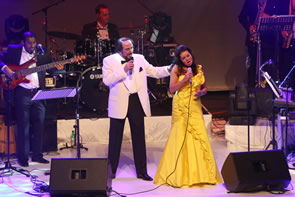 "I don't think I have seen too many artists switch so effortlessly from the Ella Fitzgerald arrangement of 'Cheek to Cheek' to a rendition of 'O Mio Babbino Caro' by Puccini. She feels the music and adapts her vocal talents to suit completely disparate styles of music. In short, Reay is a performer to truly get excited about!" Mark Ritchie, The Stage.
For more information on the show 'Great Laides of Song' or to book  please contact Anna.