ONE ENCHANTED EVENING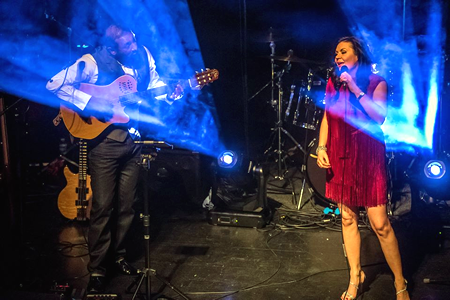 Anna reay Duo modern and timeless love songs
Performing and eclectic mix of modern and timeless love songs Anna, along with her band of talented musicians and special guests, will engage you on a romantic journey through love songs by Sam Smith, Michael Buble, Cilla Black, Eva Cassidy, Nelly Furtado, Stevie Wonder, Nat King Cole, Maria Callas, Katherine Jenkins, Anna Netrebko, Peggy Lee and many more with some 'torch' songs from some of the most romantic movies of all time, all performed in her own unique style.
Anna has enjoyed extensive tours of the UK and Europe with sensational performances including theatres shows, intimate venues, sailing the seven seas as guest entertainer on luxury cruise liners and being invited to sing arias in front of thousands at football matches.
With a warm personality, an enviable vocal range and vast array of musical styles including soul, blues & jazz as well as musical theatre, classical and pop music, Anna has wowed critics nationally in newspapers and magazines as well as being featured on numerous international TV and radio shows.
Mark Ritchie from The Stage newspaper said:
"This Newcastle upon Tyne-based vocalist feels the music and adapts her vocal talents to suit completely disparate styles of music. For example, I do not think that I have seen too many artists switch so effortlessly from the Ella Fitzgerald arrangement of Cheek to Cheek to a rendition of O Mio babbino Caro by Puccini."
"In short, Reay is a performer to get truly excited about. Her adopted strategy of chatting to her audience was most endearing. I liked everything about her. The biggest selling point here however was something you cannot train, coach or acquire by purchase. I'm referring of course to Reay's sheer charm and stage presence."
Anna has returned to her home town to play the special Valentine's Day one-off show at The Sage following the success of sell-out show 'Great Ladies of Song' at the Whitley Bay Playhouse in November 2013.
Anna Richardson, of the Informer Magazine described her as "a truly remarkable voice with a deceptively relaxed stage persona. The band are highly skilled musicians. Top marks all round."
Fan Alan Shearer described her voice as "truly lovely".